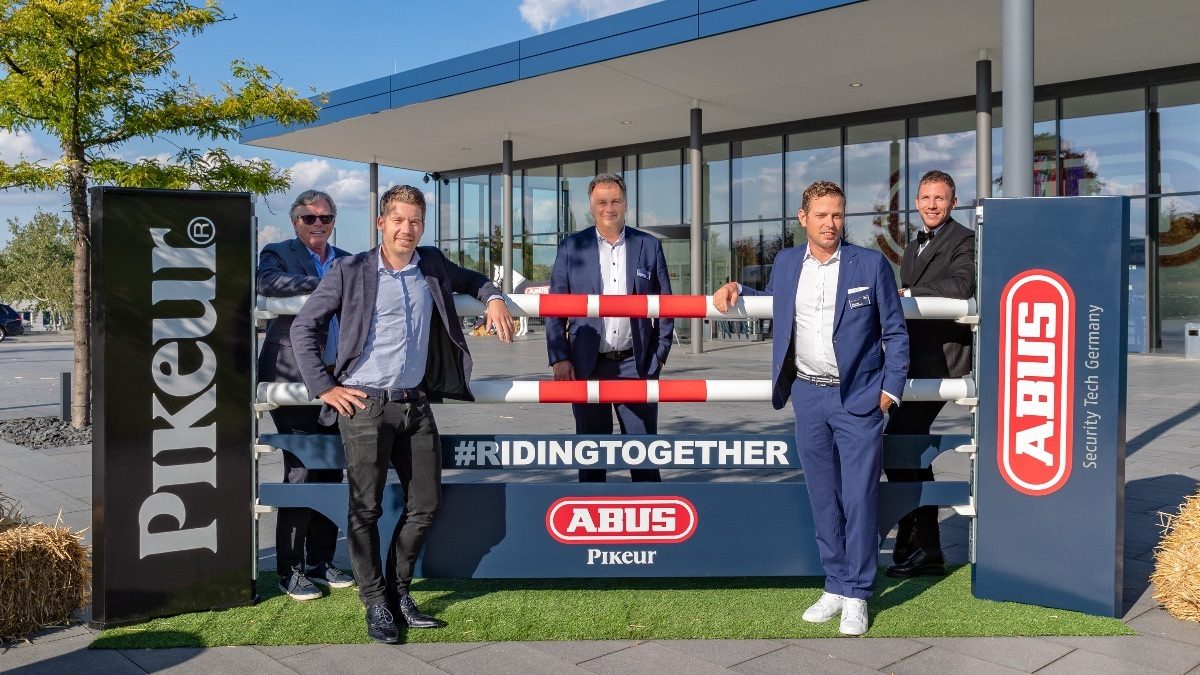 Double Blockbuster -

ABUS and Pikeur to cooperate in Equestrian Sport
---
Wetter/Ruhr, Herford – 16. September 2020 – ABUS, August Bremicker Söhne KG, is expanding its security range to include riding helmets and at the same time announces a global cooperation with Pikeur of bugatti Holding Brinkmann Group.
Following many successful years in the area of bike helmets, even equipping the WorldTour Equipe Movistar Team, the world-class manufacturer of security products from North Rhine Westphalia has decided to develop and launch a high-class riding helmet collection on the market. "After so many years (ABUS helmets have been in production since 1994), it is the next logical step for us to take, and we are looking forward enormously to becoming involved with the equestrian trade and working together with PIKEUR as our cooperation partner", said Christian Bremicker as managing partner of the ABUS Group.
The cooperation with worldwide leading equestrian sports outfitter PIKEUR includes the areas of sales, logistics, development and athletes/top-level sport and concerns international markets and stockists in the equestrian sports clothing and equipment area. For Klaus Brinkmann, as Managing Partner of bugatti Holding Brinkmann Group, this represents an important milestone. "In the context of such an important collaboration, two aspects are absolutely crucial for us – the technical-thematic addition and profession of both businesses, and the personal collaboration between the parties involved. And here we have a perfect match."
The result of the cooperation will certainly impress professional equestrian celebrities as well as enthusiastic amateur riders: Helmets which comply with the most stringent safety standards, involving innovative technologies and excellent design - in shape, function and comfort - to meet the highest requirements of equestrian sport.
ABUS, as a global company in family ownership, is currently run by the fourth generation of the owner-family. Over the course of its almost 100 year company history, ABUS has set clear standards. Design, innovation, security – this is what ABUS stands for today with over 3,500 employees worldwide in the "Home Security, Mobile Security and Commercial Security" business units. ABUS leads the field with its competence in the area of bike helmets – irrespective of whether urban, suitable for children or sporty. Top professional international cycling teams place their confidence in ABUS Performance Helmets.
PIKEUR, equestrian outfitters from Werther/Westphalia, was founded in 1957 and belongs to bugatti Holding Brinkmann. Today the company is run by the second and third generations of the founding family. PIKEUR is a world leader in professional equipment for rider and horse. The high-standard, innovative and fashionable products prove their quality every day on international arenas and successfully stand the test at Olympic Games. Since 1972 Pikeur, furthermore, has been equipping the German Equestrian Olympic Committee (DOKR) as well as various championship teams.
Picture caption: A symbolic photograph - cooperation-kick-off in front of ABUS Security World in Wetter/Ruhr (left to right): Klaus Brinkmann (Managing Partner bugatti Holding Brinkmann ), Daniel Bremicker (Mobile Security Business Unit Manager, ABUS August Bremicker Söhne KG), Christian Bremicker (Managing Partner, ABUS August Bremicker Söhne KG), Markus Brinkmann and Julius Brinkmann (Both: Managing Partner bugatti Holding Brinkmann)