FASHION STAR 2021
FASHION STAR continues, this time with the new partner Fundis Reitsport on board! Currently the planning for the next seasons is already in full swing.

Don't miss this great chance! Simply apply by sending us a really convincing video to persuade us why you want to become FASHION STAR. Please be aware that you and your horse will have to come to Riesenbeck for film shooting. Your video doesn't need to be professional. A high-resolution smartphone film will be perfectly adequate.

Additional information concerning how to apply, selection and further procedure as well as terms and conditions of participation and the possibility of sending off your application are to be found here:

>>> Apply right here for the next FASHION STAR season!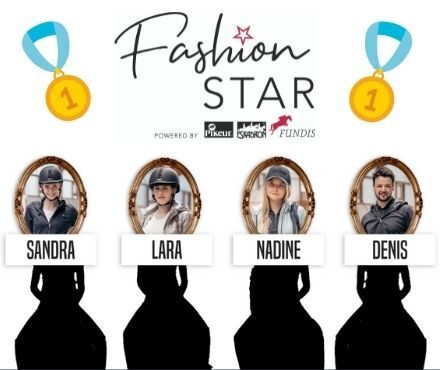 FINALE Season 5
Who will win the fifth season of Fashion Star? The motto of the week was: Eye-catching breeches - Welcome the summer in a new training outfit. To whom does juror Jens Hilbert award the title? Sandra, Lara, Nadine or Denis? Here you can watch the whole episode for free:
Since autumn 2019, we have already been on the lookout for the first fashion stars. You can have another look at our candidates of the past four seasons striving hard to win the much coveted title here: